Check out these cool tennis products by our friends at Oncourt Offcourt! Get $25 discount or up to 50% off!
Since 1994
Oncourt Offcourt
lives up to its slogan, 
"Leaders in Fun and Innovation."
With more than 200 tennis player and coaching aids and 2 million views on their
YouTube channel
, their training products are used in 100 countries worldwide. 10,000 website users visit them every month for new and unique tennis products.
Sign up for their
newsletter
to receive special offers and add more fun to your life on the courts!
Special Discount
As a special introductory offer, we'd like to give you a discount of
$25 off
your purchase of $50 or more* through
June 1
.
*$50 before shipping and handling
Here are some products you might want to check out: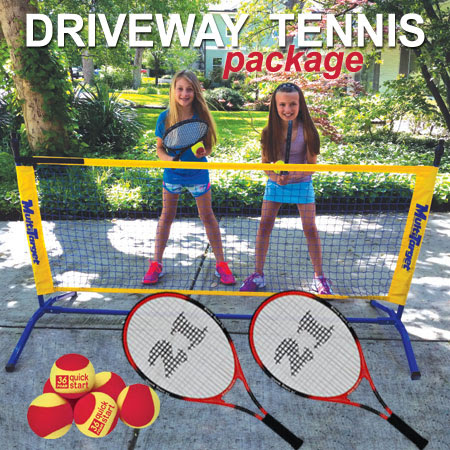 Now you can play tennis anywhere! Use your driveway, basement, gameroom, patio, or even cul-de-sac. The 6-foot MultiTarget Netsets up in seconds. It is also adjustable in height up to 60 inches for recreational badminton or beachball volleyball with kids as young as 3 years old! The 21″ Racquets are a perfect racquet for children. The softball-size Quick Start 36 Foam Balls are high-quality and bounce like normal tennis balls except at less than half the speed to allow everyone to play with success from the first few hits.
"Coaches say Bend your knees! over and over again. Why pay for this instruction. The Flex Trainer teaches you this automatically!"

The Flex Trainer is an essential tool to help players of all ages and abilities improve their balance and movement skills. Each unit includes six bands allowing it to adjust to three different resistance levels. They gently pull players into a lower playing height (with knees slightly bent). Since efficient movement in tennis is the key to better play, and lower playing height is the key to more efficient movement, the Flex Trainer is a "must have" training tool. The Flex Trainer is designed to give athletes a feel for playing height while enhancing their fitness regimen. Sports performance that can benefit from using the Flex Trainer include: Football, baseball, basketball, tennis, and many more.
"Fix your Serve or Volley grip in seconds and SAVE MONEY on tennis lessons! Sold by the dozen. Give to friends only!"

Incorporate your teaching with the Rite way to save time and irritation. Tennis lessons just got a whole lot more effective! Extremely quick and easy to put onto grip. Does not make grip size feel larger. Very durable!

What can the Grip Trainer do for you?

Train the hand to use the continental grip.
Eliminate instructor frustration teaching the continental grip.
Hold the racquet properly by separating the index and middle finger.
Grip the racquet handle the proper height without choking-up.
Help adjust the forehand grip from full-western to semi-western.
The Playmate Portable Series is considered by many to be the best battery-powered ball machine in the world. When the Full Volley Portable is set to "random" only the internal wheels change the ball direction. Therefore, from the other side of the net, players are forced to react to the ball changing direction, just like real tennis! Plus, the rechargeable battery is removable so the entire machine does not have to be carried to be plugged in and recharged. Leave the machine in your car and just carry the battery up the stairs to your apartment or into your house!
"Practice on your own, inside or out!"

Solve the #1 problem in tennis – 8 out of 10 mishits are created by lack of focus. True for pros and beginners alike. The Eye Coach trains you to focus consistently on "your side of the ball."

Reduced distractions – Because the Eye Coach eliminates the distractions of getting the ball over the net, learning is concentrated on eye strength, stroke and balance.

Repetition, repetition, repetition – Remember that practicing with correct technique leads to faster improvement.

Works at all levels of play – The Eye Coach is the only system that can be used by pros and beginners alike. Eye strength is a skill every player can improve.

No slipping back – Use the Eye Coach to maintain play levels between coaching sessions. In fact, in just 30 minutes a week, you'll improve your skills!

Powerful instinctual learning – Instinctive reactions are the most powerful athletic movements in the human body. The stronger your eye function at contact, the more you can tap into these instincts.